Multihead weighers
Solid and very accurate multihead weighers. Suitable for packing nails, bolts, nuts, rings and screws with speeds up to 50 weighings p/m.
Complete solutions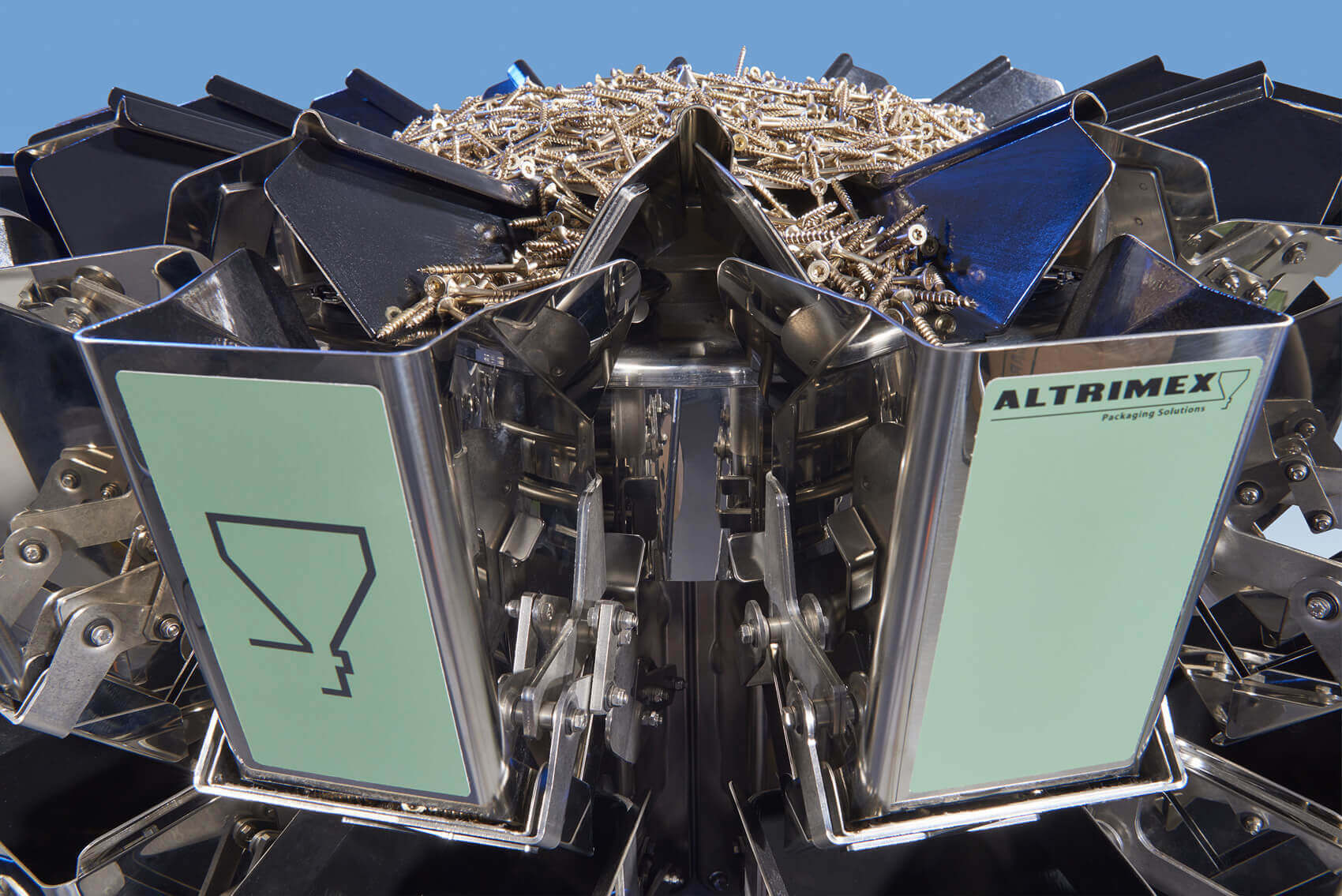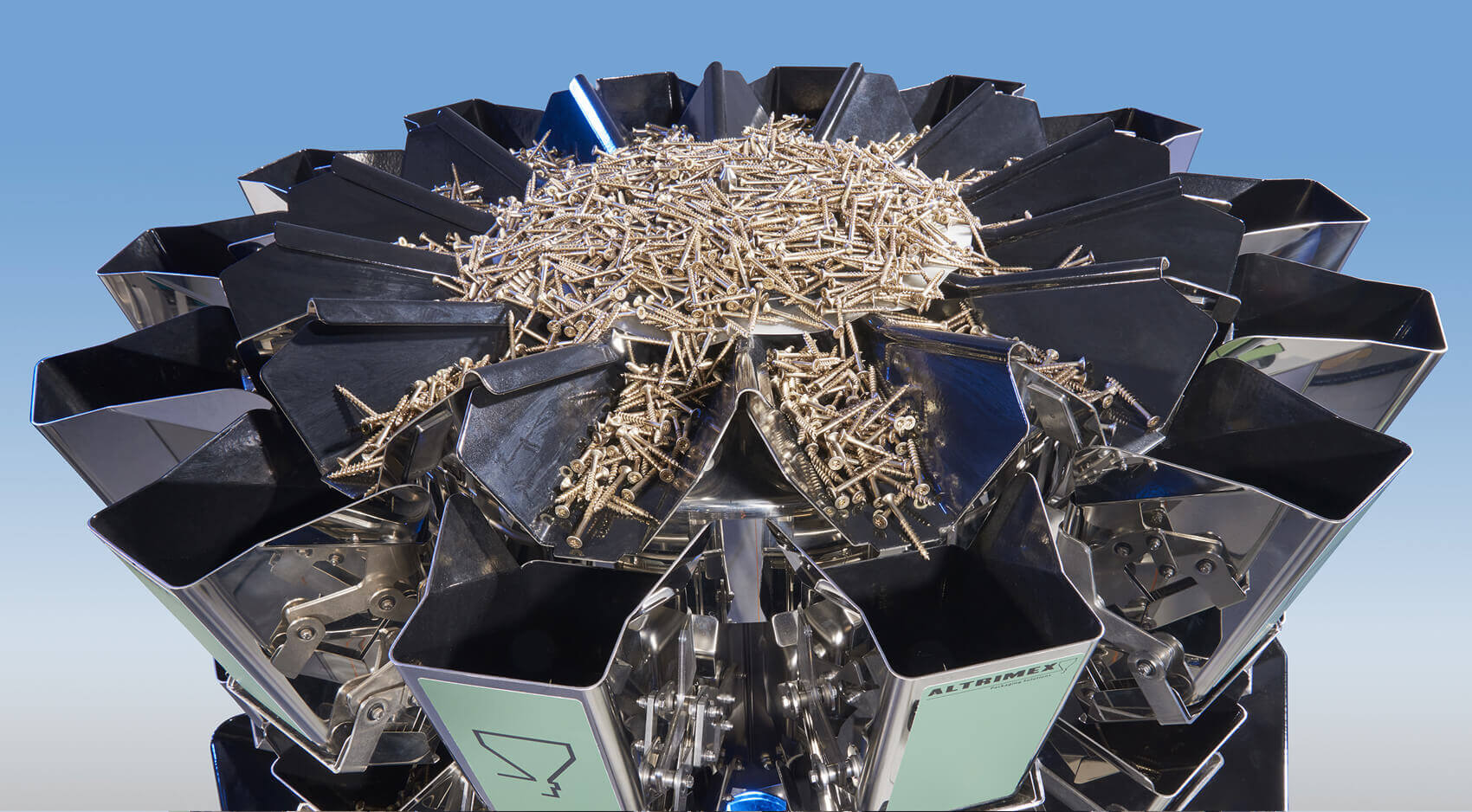 Multihead weigher
Altrimex has various multihead weighers available especially for weighing hardware at high speed. These are particularly suitable for customers who want to package larger batches of hardware. Features of the multihead are:
◾  Solid design with modular construction;
◾  Very accurate;
◾  Speeds up to 50 weighings per minute;
◾  High duty weighing cells, making them suitable for weighing heavy parts;
◾  User-friendly control interface;
◾  Equipped as standard with the possibility for a reference scale for automatic input of piece weight;
◾  Switchable per product menu between weight or counting mode (count by weight);
Standard delivery programme
The multihead weigher is mainly used in fully automatic packaging lines. We offer standardized solutions for this, consisting of:
✅ Infeed and out feed systems
✅ 14-head multihead weigher
✅ Filling machine
✅ Closing system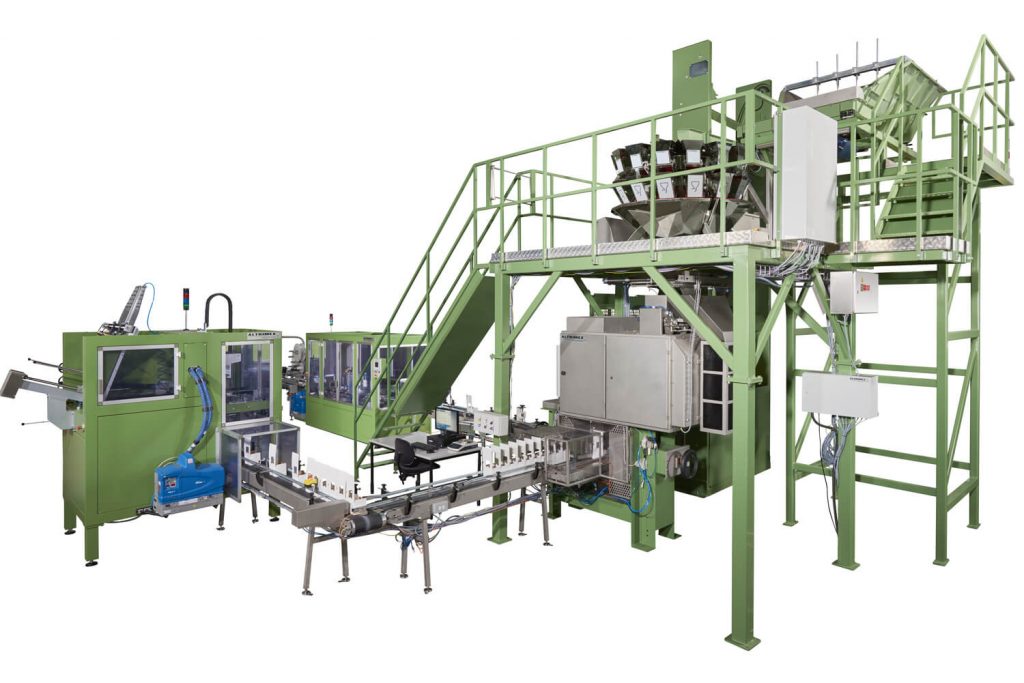 Do you want to further automate your line with other components in addition to the options mentioned above? Altrimex can also provide this, for example by adding:
◾ Parelleling magnets, suitable for paralleled packaging of your products
◾ Checkweighers, for an individual check of weight and filling height
◾ Labelling systems
◾ Automatic palletizers
With all these applications you create a fully automatic packaging solution that completely answers your packaging issue.
As you can see, investing in an Altrimex system is a responsible investment for the future.
Who is the multihead weigher suitable for?
A multihead weigher is an ideal solution for customers who want to package hardware at a high speed, up to 50 boxes/sachets per minute. If you want lower speeds (< 12 per minute), we advise you to opt for our linear weighers.
In addition to hardware, the multihead is also suitable for handling a wide variety of general cargo. Think of candy, nuts or pet food for the chemical and food sector.
How does the multihead weigher work?
Your product is automatically transported from the feed bunker and feed chute to the vibrating middle disc. This is equipped with an adjustable pre-weighing which allows the product level to be accurately determined. For the most optimal operation, it is essential that the products are properly separated and supplied continuously. To guarantee this, the infeed chute can be doubled, so that an optimal spread of the products is created.
Then the middle disc doses by means of vibrations the products evenly in the different hoppers, these are equipped with their own vibrating feed chute with a stock hopper at the end. When the preset weight is reached, the shut-off valve opens and the product is transferred to the weighing hopper.
The aim of every weighing is to obtain an even combination of the weights, for this reason a multihead weigher is also called a combination weigher. After finding the right combination, the partial weights are deposited in the collecting funnel and fed via the timing hopper as final weight to the filling station.
Stockbins of the multihead weigher
Construction of the Multihead weigher
More information?
Would you like to know whether a multihead weigher is also the solution for your product and
situation? Please contact us and ask for our advisor Twan van Gaal.